If you are having any problems uploading contact Info@FlagpolePhotographers.com
Click here for full competition rules
Digital Upload Tips and Tricks
Step 1 – Select event you are uploading for
At the top of the page

Step 2 – Add your photo by dragging and dropping or click the "Choose Photo" button
Using Drag and Drop

At this point, the upload system will check your photo for various issues and size the photo to fit within the competition guidelines.
Step 3 – Enter a title – if it is required. Normal
Normal competitions require titles, many other uploads do not need titles.
Titles can contain all sorts of characters, numbers, symbols … etc.

Step 4 – Click the upload button to submit the photo
You will not receive an email of successful upload. Instead, there is a message letting you know the photo was uploaded successfully.
Optional Steps –
View a version of the photo that was resized for competition
Change the title of your photo. Your exact title capitalization, spelling, grammar, punctuation … will be shown to the judges
Delete the photo from the competition.
Can't remember what photo you submitted?
Visit the upload page again; it will show what you have submitted.
Digital Upload Photo Type and Size
File type:
JPG required!
Resolution:
Recommended for digital competition is a width of 1920 pixels or a height of 1080 pixels. This is HDTV resolution, the same resolution of our digital competition system. Photos will be automatically downsized to fit on the 1920 x 1080 display. The photo's aspect ratio will be preserved (that is, it will not be skewed to fill the whole screen). For example, for a square photo with a width of 3000 and height of 3000 will be downsized to 1080 by 1080.
Maximum – None. However, there is no advantage of uploading photos that are larger than the recommended size.
Minimum – None. However, photos smaller than the recommended size will appear small in the digital competitions.
Note: Pixels are the only metric used. Metrics like inches or DPI are ignored.
Note: Recommended JPG compression should be very high to preserve photo fidelity. In Lightroom use a quality setting of at least 90 (percent). In Photoshop use a quality setting of at least 11 (on a 12 point scale) or at least 90 (on the percentage scale).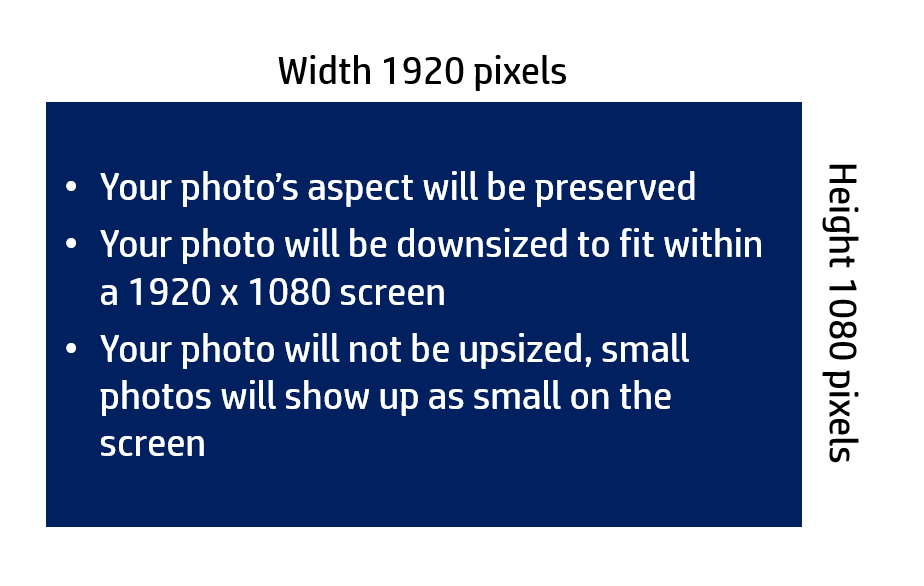 Borders
You may choose to add a border or mat look-a-like. The border is simply pixels added around your photo. The software does not know or care if you add a border, it is just part of the photo. Experiment on your computer screen and see what looks good to you.
Color space
Always use sRGB. sRGB is the default color space for your camera, Photoshop, Lightroom and most programs used for editing. Sometimes, when editing HDR or RAW photos, you may end up using Adobe RGB or ProPhoto RGB color spaces. These should be converted to sRGB before uploading to ensure your photo is displayed with the correct colors.
In Photoshop you can use Edit -> Convert to Profile to change the destination color space to sRGB (aka sRGB IEC16966-2.1)
Filename
Does not matter, ignored.
Aspect ratio (portrait, landscape, 4×3, 16×9, panorama, custom …)
Does not matter. Your aspect ratio will be preserved.
Upload Note, Warning and Error Messages
When you select a photo to upload the messages below may be displayed. The issues identified should be corrected in most cases. Ignoring the messages will probably result in a suboptimal display of your photo and possible disqualification of your photo. However, you are not prevented from uploading the photo.
Note

– Color space sRGB not detected.

As noted above, you should always use sRGB to ensure your photo's colors are correctly displayed during competition and on the website after the competition. See the tips above on how to convert the color space.
Warning

– Photo is smaller than recommended

As noted above, small photos will not be scaled up when displayed in competition. Thus, if you upload photos a lot smaller than HDTV (width 1920, height 1080), your photos will appear smaller to the judges.
Warning

– Photo appears to exceed the 24 month competition age limit

Generally, photo metadata inside a JPG includes the date when the photo is taken. When date information exists, it is based on the date the camera is set to. The camera date is often set manually, but sometimes from software when your camera is connected to a PC. This means the date information available inside of the photo is often correct, but not always.

If you know the warning is wrong, ignore it.
Error

– You are not allowed to compete in both of these categories

Some of our competition categories are mutually exclusive. For example, you cannot enter photos in both Digital Open A and Digital Open B, or Digital Assigned Subject and Print Assigned Subject.